Figure Structure Drawing Class #2
Thursdays 6:00-9:00pm, March 16-May 4 Teachers: Joseph Brickey, Niki Covington, Andrew Payne $360 for 8 week course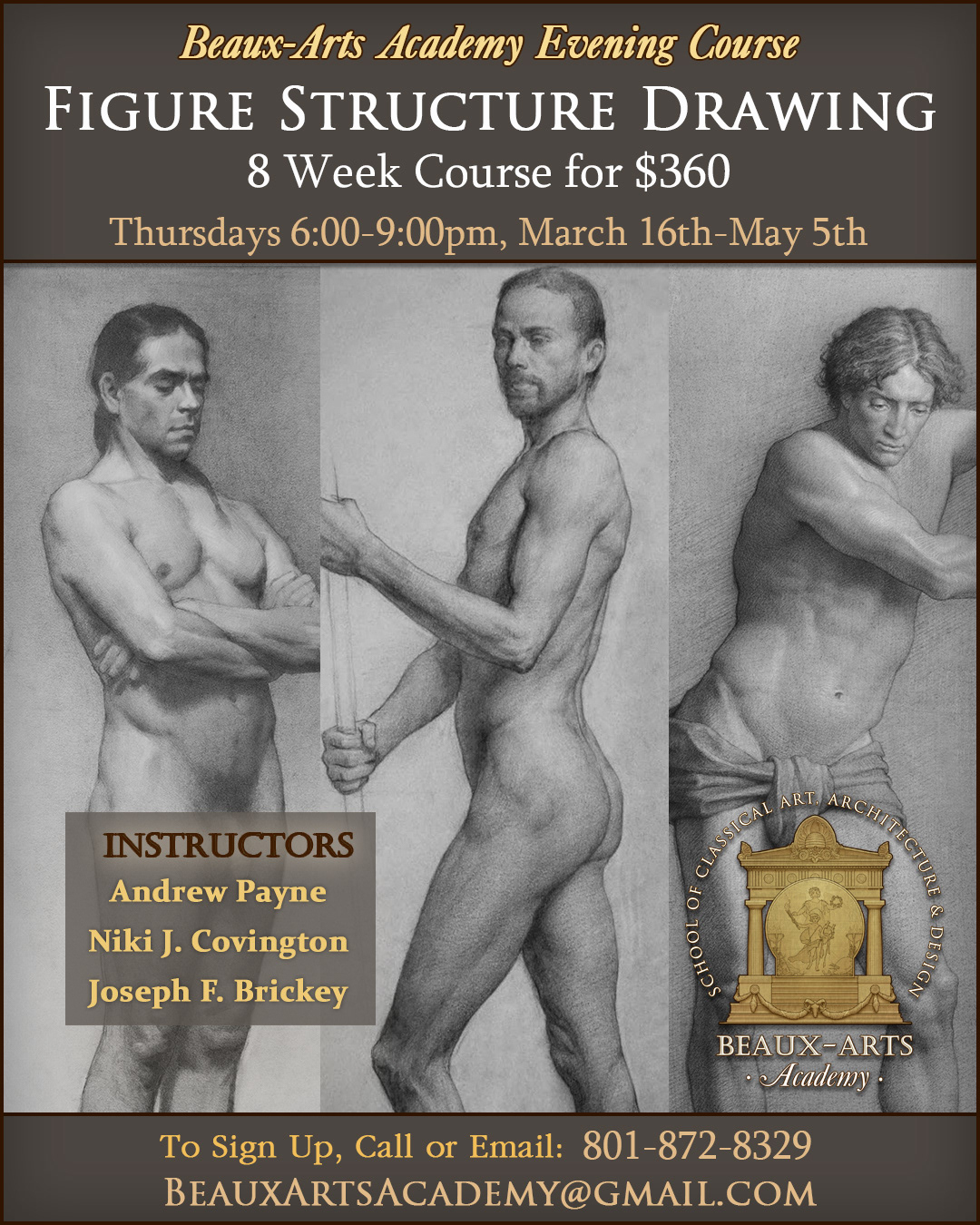 (Back by popular demand, we are offering another Structure Class in March-May!)
This course approaches the study of the human figure from the structural point of view, utilizing anatomical landmarks to conceptualize and build the form from within. 
These are the first steps in developing artistic capacity to leave the realm visual appearance and embark on drawing and designing from the mind, with the ultimate goal of expressing not only the correct measure of the body but its qualitative meaning.
All skill levels are welcome. For best results, we recommend students to supplement this class with Tuesday evening Cast Drawing.
Teachers: Joseph Brickey, Niki Covington & Andrew Payne
Class Schedule: Thursdays, 6:00-9:00pm, March 15th -May 4th.
Class Fee: $360 for 8 weeks. Model fees included.
Materials list: Drawing board & clamp, 18 x 24 pad of paper, medium smooth paper as opposed to really smooth is recommended or Strathmore 400 Series. Pencils – HB, H, 2H, graphite pencils or Primacolor Col-Erase pencils Black, Brown, TerraCotta or Green. Sharpening knife & sandpaper, kneaded eraser, measuring tool such as a knitting needle, and a small handheld/makeup mirror.
Please email BeauxArtsAcademy@gmail.com or call (801) 872-8329 to secure your place in the class. Class size is limited.