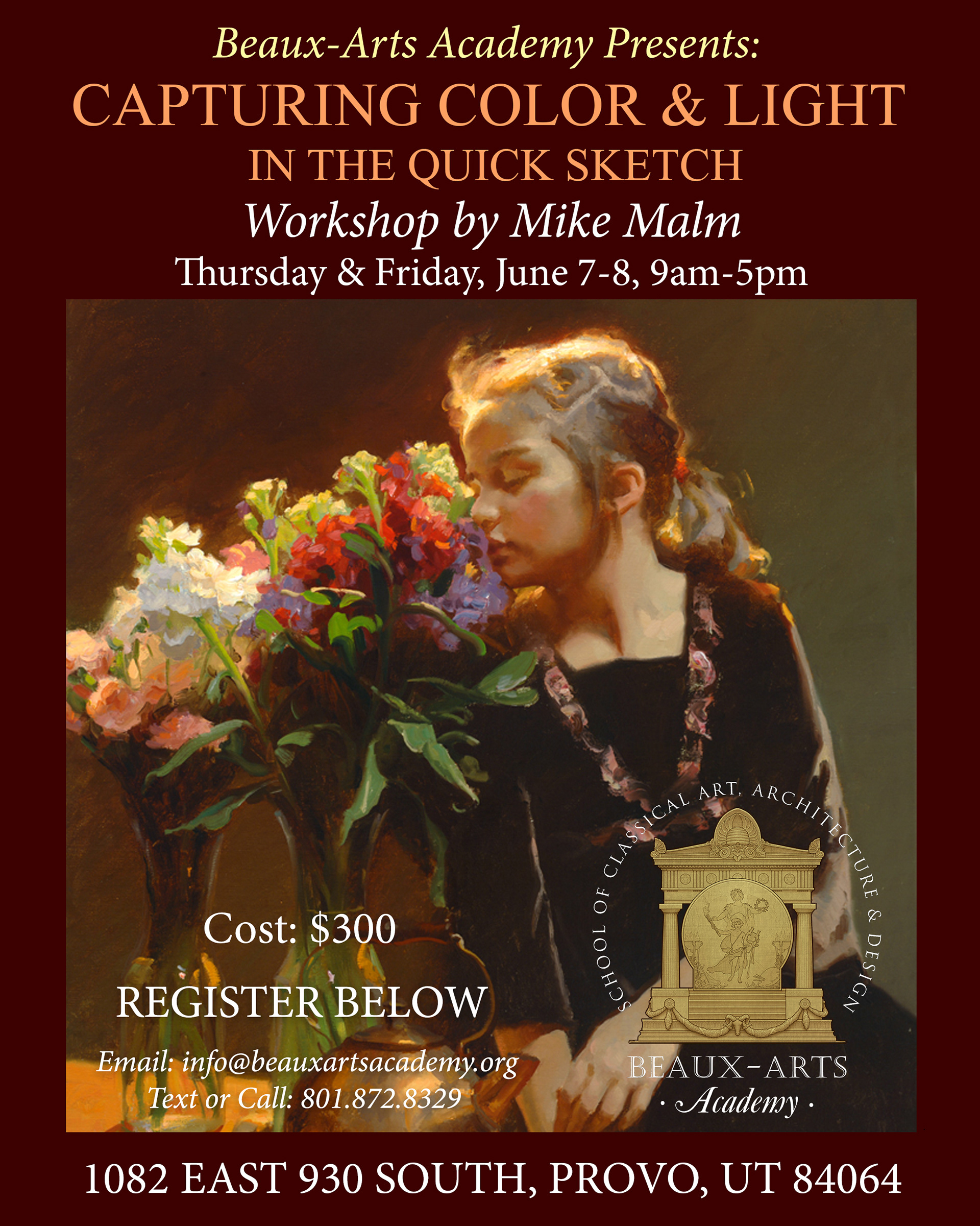 The intent of this oil painting workshop will be to learn to capture the essence of light and color by establishing accurate value and color relationships. To that end, we will be working from models in different lighting conditions with short poses. The instructor will demonstrate these concepts and principles live in the studio as well as discuss how it works in finished artwork. Space is limited! 
*Please reserve a studio easel during registration if you can't bring your own.
*The following materials are strongly encouraged, but feel free to use what you are accustomed to.
Paint:
Titanium white
Cadmium Yellow Medium
Yellow Ochre
Raw Sienna (Rembrandt)
Cadmium Orange
Permanent Red Medium (Rembrandt)
Permanent Madder Deep (Rembrandt) or Alizarine Crimson  Equivalent
Prussian or Ultramarine Blue
Transparent Oxide Red
Transparent Oxide Brown (Rembrandt)
Ivory Black
Thinners:
Please bring an odorless thinner in a small container.
Brushes:
Flat or Filbert bristle brushes from sizes 2-12, a few of each
small soft hair brushes  for finer work.
Palette knives, various sizes
Painting surfaces:
Bring several surfaces to paint on somewhere around 12x16-16x20". We will be doing several quick studies. I like to divide my boards with tape into four sections.
Other:
Plenty of paper towels
Plastic grocery bags for garbage.
Camera
Portable easel of your own, or reserve one that we have in the studio.
Michael Malm lives in the beautiful Cache Valley of northern Utah with his wife, Juanita, and their four children. The surrounding rural communities and setting provide backdrops for his figure paintings and inspiration for his landscapes. His serious study began under Del Parson at Dixie College where he completed his associate's degree. He then went on to Southern Utah University where he had the opportunity to study with Perry Stewart, and completed his formal education at Utah State University where he received a Master of Fine Arts Degree studying under Glen Edwards. Workshops have also played an important part of his development studying with such master painters as Richard Schmid, Burton Silverman, Daniel Gerhartz, Quang Ho, Ron Hicks, Michael Workman, and Jim Norton. "I am grateful to have studied under some great artists. I am always inspired by their work, and grateful for their ability and willingness to pass along their knowledge to me."